Mobile Phone Unlocking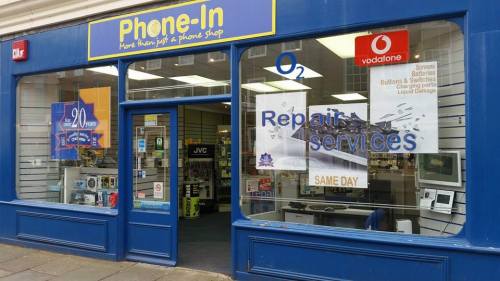 Professional mobile phone unlocking!
We have been unlocking mobiles since 1997 from our
High Street premises in Chichester, West Sussex
and can process most mobiles same day.
For a free no hassle quote from our friendly staff, please complete the form below. Alternatively for an instant quote call 01243 530576
Terms & Conditions of our unlock by post service
By sending your phone to us for unlocking you imply that you are the legal owner of the phone, or that you have the permission of the legal owner to send the phone to us for unlocking. We can never guarantee to unlock every phone listed, if for some reason we cannot unlock your phone, your payment and phone will be returned to you guaranteed.
To avoid misunderstandings:
We do NOT remove the user security code during the unlocking process unless requested (an additional charge may apply).

We do NOT repair handsets during the unlocking process unless requested (an additional charge will apply) . If yours has some defect now, it will still have it after the unlock.

Unlocking will not help you if the phone has been "Blacklisted" (reported lost or stolen) & you will still be liable to charges. Check it works on the original network before bringing it in to be unlocked

All we do is to remove the SIM card restriction, sometimes called "SIM lock", "SP lock", or "network lock".

We can not enable 2G handsets to accept a 3G USIM card
we can unlock

lg cookie kc500 kp501


I deal for Nokia Any BB5 Models inc kp500uding: 6650, 3600 Slide, 5320 Xpress Music, E71, 5220 Xpress Music, 3555, 6220 Navigator, 6220 Classic, N78, 7310 Classic, N78, 3120 Classic, 8800 Arte, N82, E90 Communicator, N95 8GB, E62, N96, N81 8GB, 3110 Evolve, 3120 Classic, 3500, 5310 Xpress Music, 5610 Xpress Music, 5700, 6110 Navigator, 6120 Classic, 6121 Classic, 6124, 6210 Navigator, 6220 Classic, 6263, 6267, 6300i, 6301, 6555, 6650, 6500 Classic, 6500 Slide, E61, 7390, 7500 Prism, 7900 Prism, E51, E61i, E65, E70, E71, N80, N71, N72, N73, N75, N76, N77, N78, N81, N95, 3109 Classic, 3110 Classic, 3250 Xpress Music, 5200, 5300 Xpress Music, 5500, 5500d Sprt, 6085, 6086, 6125, 6126, 6131, 6133, 6136, 6151, 6233, 6234, 6270, 6280, 6288, 6290, 6300, 6630, 6631, 6680, 6681, 6

682, 7370, 7373, 8600 Luna, E50, E60, N70 Music Edition, N90, N91, N92, N93, N93i etc.




How to unlock your mobile phone.




Free Recorded delivery postage back to you



All models are supported including:

i900 Omnia, L700, F480 Tocco, F490, U900 Soul, U800 Sleek, A501, A701, A707, A800, C100, C108, C110, C120, C126, C128, C130, C140, C160, C180, C200, C200C, C200N, C200S, C207, C207L, C208, C210, C210S, C216, C218, C225, C230, C230C, C230S, C238, C240, C250, C260, C300, C400, C420, C510, C520, D300, D100, D307, D347, D357, D407, D410, D410C, D415, D418, D428, D437, D488, D500, D500B, D500C, D500E, D508, D510, D520, D550, D600, D600E, D600S, D608, D710, D720, D728, D730, D780, D800, D800E, D807, D808, D810, D820, D830, D840, D870, D900, D900E, D900I, D910, D990, E200, E100, E105, E116, E200, E210, E217, E240, E250, E250E, E250V, E300, E310, E310C, E310S, E315, E316, E317, E318, E320, E250, E2
50E, E250V, E330, E330C, E330N, E335, E338, E340, E340E, E348, E350, E350E, E356, E358, E360, E368, E370, E370E, E380, E390, E400, E418, E420, E430, E480, E490, E500, E530, E530C, E
560, E568, E570, E590, E600, E600C, E608, E610, E610C, E618, E620, E628, E630, E630C, E635, E638, E640, E648, E650, E690, E700, E705, E710, E715, E720, E720C, E720I, E720S, E728, E730, E736, E738, E740, E750, E758, E760, E770, E770V, E778, E780, E790, E800, E800C, E800N, E808, E810, E810C, E818, E820, E820T, E830, E840, E850, E860, E860V, E870, E880, E888, E890, E898, E900, E900E, E910, F200, F300, F310, F500, F510, F520, F700, G600, G800, I300, I300X, I308, I310, I320, I320V, I320N, I400, I400V, I505, I520, I600, I600V, I607, I700, I710, I710V, I750, I830, I830V, J600, J620, J700, J750, M100, M300, M600, N700, N707, N710, N720, P100, P110, P200, P207, P300, P310, P400, P510, P518, P705, P710, P720, P730, P730C, P735, P738, P777, P850, P857, P858, P900, P910, P920, P930, P940, S100, S105, S200, S300, S300m, S341I, S342I, S400, S400I, S401I, S410, S410I, S500, S500I, S501I, S550i, T100, T108, T209, T309, T319, T329, T509, T519, T609, T619, T629, T719, T809, U100, U100V, U300, U300V, U310, U500, U500V, U600, U600V, U700, V100, V200, V705S, V706S, V707S, V708S, V709S, V710S, V804, X100, X105, X120, X138, X140, X150, X150L, X156, X160, X160B, X200, X208, X210, X300, X308, X400, X426, X427, X430, X450, X460, X460C, X461, X466, X468, X475, X478, X480, X480C, X480L, X481, X486, X488, X490, X495, X497, X500, X507, X510, X510V, X520, X530, X540, X600, X610, X620, X620C, X628, X630, X636, X640, X640C, X648, X650, X660, X660V, X668, X670, X680, X680N, X680V, X690, X700, X708, X715, X770, X800, X808, X810, X818, X820, X830, X830N, X840, X900, X910, Z100, Z105, Z105V, Z107, Z107V, Z110, Z110V, Z130, Z140, Z140V, Z150, Z170, Z220, Z220I, Z220V, Z230, Z240, Z240V, Z300, Z300V, Z308, Z310, Z320I, Z330, Z350, Z360, Z360V, Z370, Z400, Z400V, Z500, Z500V, Z510, Z520, Z520V, Z540, Z540V, Z550, Z550V, Z560, Z560V, Z600, Z600V, Z620, Z620V, Z630, Z630V, Z650, Z650I, Z700, Z710, Z710V, Z720, Z720V, ZM60, ZV10, ZV30, ZV40, ZV50, ZX10, ZX20
2200, 2500, 2700, 3300, 5080, 5200, 7200, 7500, 8200, 8400, 8700, 8800, 8900
A130, A1000, A1010, A1200, A630, A6188, A728, A732, A780, A830, A835, A845, A910, A920, A925
C115, C116, C117, C118, C139, C140, C155, C156, C157, C168, C168i, C200, C205, C230, C236, C250, C257, C261, C266, C268, C300, C330, C331, C332, C333, C334, C335, C336, C350, C350i, C350v, C353, C355v, C359v, C370, C380, C385, C390, C450, C450i, C550, C650, C651, C975, C980, CD160, CD920, CD930
D160, D170, D460, D470, D520, Dynatac
E1 ROKR, E1000, E1060, E1070, E1075, E1120, E2 ROKR, E360, E365, E370, E375, E378i, E380, E390, E396, E398, E550, E6 ROKR, E770, E770v, E8 ROKR, E920
F3 MOTOFONE, Flare
i2000
KRZR K1, KRZR K3
L2, L6, L6 i-mode, L7089, L7389, L7, L7 i-mode, L71, L72, L7e, L9
M1000, M3188, M3588, M3688, M3888, M6088, M702iG, MicroTAC Elite, MPx200, MPx220
P1088, P7389e, P7689
SlimLite, Smart Phone, StarTAC, StarTAC 130, StarTAC 70/75, StarTAC 85, StarTAC Lite, StarTAC mobicarte
T180, T189, T191, T192, T205, T2288, T250, T260, T270, T280, T280i, T720, T720i, T721, T722i, T725e
U3 PEBL, U6 PEBL, U9
V.2088, V.2288, V.3688, V.3690, V51, V100, V101, V1050, V1075, V1100, V1150, V120, V150, V151, V175, V170, V171, V176, V177, V180, V186, V188, V190, V191, V195, V220, V226, V235, V270, V280, V3, V3e, V3edge, V3r, V3re, V3ROHS, V3t, V3v, V3x, V3xx, V300, V303, V330, V360, V360v, V365, V400, V400p, V50, V500, V505, V525, V525m, V535, V545, V547, V550, V551, V555, V557, V560, V6 Max, V60, V600, V60i, V620, V635, V690, V66, V66i, V70, V8 RAZR2, V80, V872, V878, V9 RAZR2, V975, V980
W160, W180, W205, W208, W213, W215, W218, W220, W360, W375, W377, W380, W395, W510
Z3, Z6 RIZR, Z8 RIZR, Z10 RAZR
Chichester, Bognor Regis, Littlehampton, Worthing Portsmouth, Southampton, Rustington, Midhurst, Hayling Island, Pagham, Ford, Oving, Brighton,
Crawley, Fareham, Havant, W
aterlooville, Hampshire, Arundel, Emsworth, Church Norton