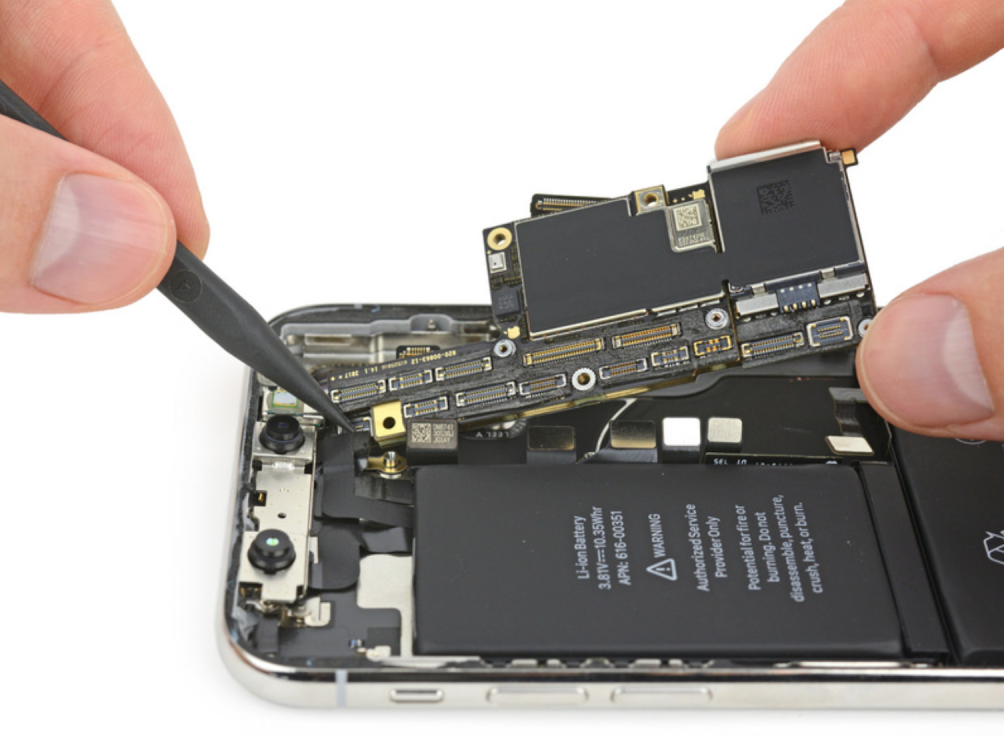 Water/liquid damage
If your device has been directly exposed to water/moisture we recommend immediately powering off the device to avoid having it short circuit and prevent any further damage. You are welcome to call us on 01243 530576 for advice or pop in where we can offer thorough cleaning and inspection of the device can be performed.
Baseband
Another common problem (iTunes error 1) may show up on your device as No Service, Searching, Missing Modem Firmware in settings, Dropped calls or sudden corruption or ceasing of Audio during a call.
Touch IC
This problem occurs if you deal with touch issues and it is not the screen responsible for causing them.
Typical indications of this motherboard failure are:
– squares appearing at the top of the screen
– when the screen does not respond correctly to your touch during use or doesn't respond at all
– the appearance of vertical or horizontal lines on your screen.

Audio IC
It's Audio IC failure when you are dealing with loud speaker option greyed out when on a call, voive memos will not record, glitches to some or all sound functions of your device. For example, when you hear a creaking sound, or when during a call, the function of microphone and loudspeaker are interrupted, nonrecurring or simultaneously.
PMIC
If your device is dead, when it doesn't charge or if it can't revive even after a new battery replacement.

USB IC
A known problem with charging that occurs frequently with several symptoms:
– when your device has no power and does not respond when plugging in
– when USB connection to a computer is erratic or non-existent
– when the device charges only when the phone is powered off, but not when it is powered on
– when the device only charges from the one side of the lighting cable
– "Accessory Not Supported" comes up on the screen

Charging IC
When the device is not charging and the problem is not detected in the USB charging management circuit.

Network IC
We are dealing with this motherboard failure when you have a weak signal and when it returns, you receive at the same time all the lost calls. There is also the case where you see that we have a signal, but you do not receive any calls and messages.

LCD IC
When your device is fully functioning (vibration, sounds) but you can't see anything on your screen.

Backlight IC
We are dealing with this motherboard failure if your screen's brightness is very low.

Camera IC
We are dealing with this motherboard failure if there is no image at your cameras or when cameras and flash simultaneously stop functioning.
Wifi/Bluetooth module
This failure is indicated when your wifi can't be activated and the indication remains gray or when the signal is weak.
Long Screw Damage
In case someone places wrong length screws when installing the screen shield, he can breach and inevitably destroy the motherboard's traces under the screen. This may cause malfunctions or cause the device to die. A rather difficult and complex repair with a shared chance of success.
Mass Memory
– a challenging repair with shared chances of success as the problem can be detected in the central processor
– often iTunes errors (4013,4014,9,40)
– memory chip replacement with either the same capacity or greater, maintaining the serial number of the device
– this repair requires restoring the device, which means, loss of all data.
Battery Connector
When the battery connector on the motherboard is broken, you device opens only while charging, and then restarts
Please complete the form below and click the Send button to get in touch with us.
Thank you for submitting the contact form.